In the past a discussion of thermal burns occurring after dental procedures and in particular wisdom teeth removal has been made. In one post it was highlighted how such thermal burns can lead to teasing and unwanted nicknames. A few other cases of thermal burns are discussed on the wisdom teeth removal complications page. In the past a discussion has also been made about how search engines including Google and Bing present differing results for the keyword "thermal burn wisdom teeth" in their image searches in the post titled The Search Engine Battle: Are you Paying Attention?. Since that article was published in late 2013 and it is now 2020, over 6 years have passed and as such revisiting this is warranted.
In the past in late 2013, Google had ineffective results for the keyword
"thermal burn wisdom teeth" in their image search with no relevant results appearing in the images. On the other hand in late 2013, Bing had somewhat relevant results with the first two results showing a thermal burn occurring after having wisdom teeth removed with the first result being from this website. Now in 2020 the quality of results have reversed in Google and Bing since 2013. In 2019 Bing had no relevant results for the keyword "thermal burn wisdom teeth" in the first set of results for their image search. However, this has improved in 2020. On the other hand, Google has relevant results with two of the first three results being from this website. The results in image search in mid-2019 and presently on February 1, 2020, for Google and Bing respectively is illustrated below for the keyword "thermal burn wisdom teeth".
Google 2019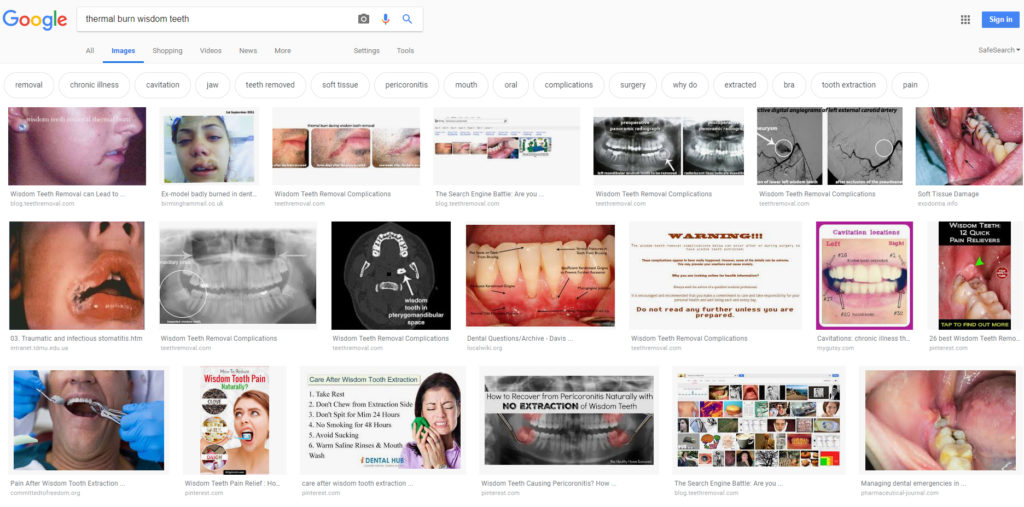 Google February 1, 2020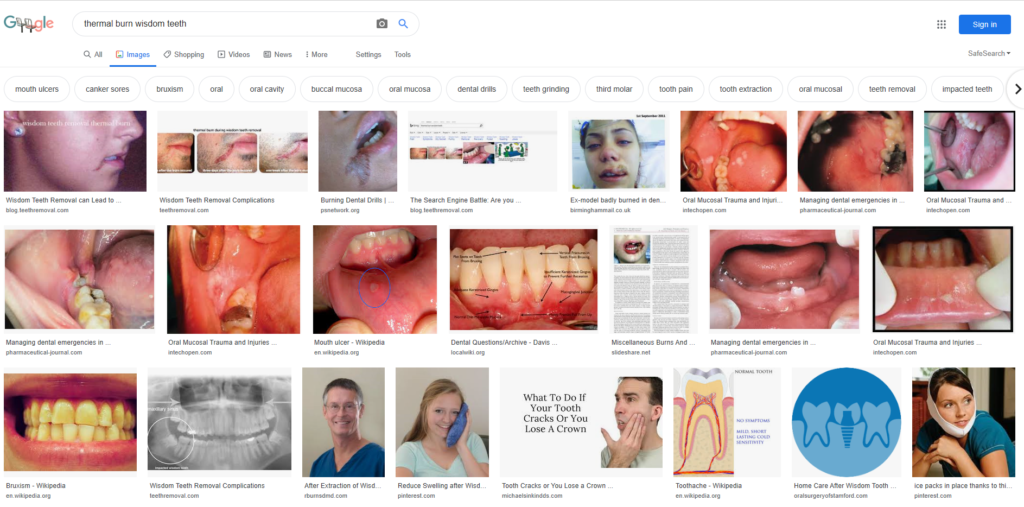 Bing 2019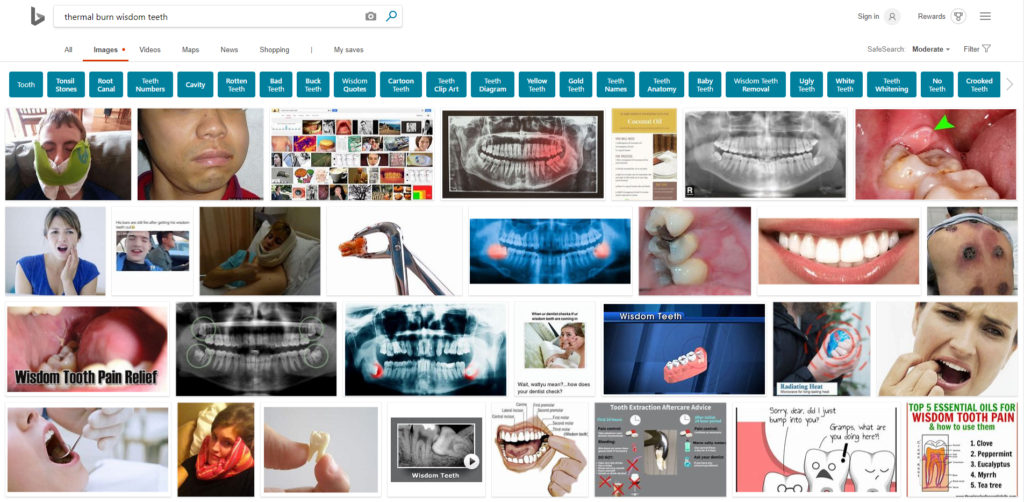 Bing February 1, 2020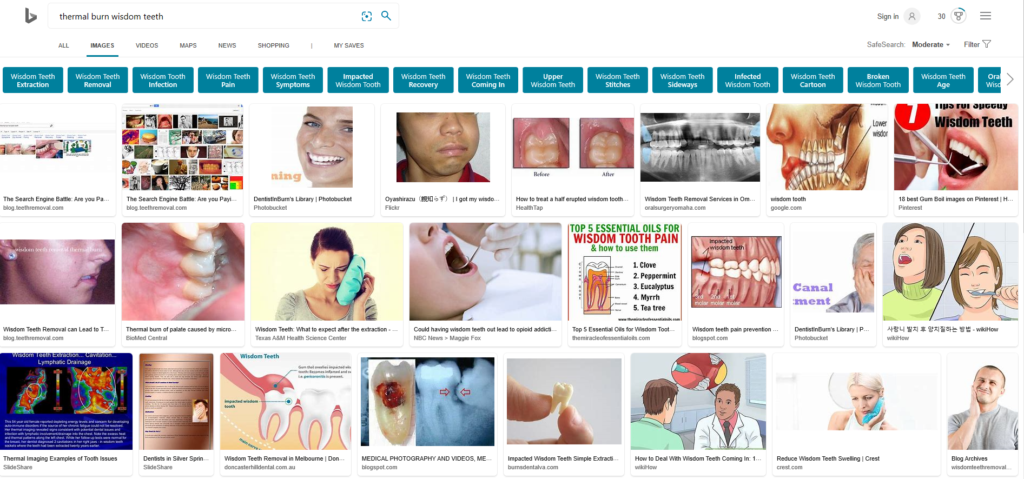 The current fifth result (and second result in mid-2019) that appears in Google is from an article titled "Ex-model badly burned in dental surgery at Birmingham hospital gives up nursery job over fears kids would be scared" written by Anuji Varmaand published on September 12, 2014, in BirminghamLive https://www.birminghammail.co.uk/news/midlands-news/ex-model-badly-burned-dental-surgery-7760116. In the article a discussion is made of a woman whose dreams of pursuing a modeling career ending when she suffered a thermal burn while having her wisdom teeth removed. Specifically the young woman suffered severe burns to her top lip from a dental drill while having two wisdom teeth removed. The woman can no longer eat anything very hot or cold and has been told that the shape of her lip has likely been permanently altered. The woman was put under general anesthesia for the surgery and was in shock that she woke up from from surgery and was told she has a serious painful burn. The woman even gave up her job as a nurse at a children's nursery because she was worried her appearance would scare the children.
The current third result (that was not present in the top results in mid-2019) that appears in Google for thermal burns from wisdom teeth removal is to an interesting article titled "Burning Dental Drills" on the PatientSafe Network https://www.psnetwork.org/burning-dental-drills/. The article offers some other cases with images and links to stories including one on this website. The article discusses the 2007 and 2010 alerts the FDA (U.S. Food and Drug Administration) issued regarding patient burns from electric dental handpieces. However, it says the real solution is replacing the electric dental handpiece with a better design. The article states
"Electrical drills, as they start to fail, will actually speed up and generate heat. They only need to heat up to 48C to cause burns… Unfortunately often the first sign a drill is failing is a facial burn – obviously not great feedback."
Thus the article calls for a design of a new dental drill that will not heat up. The article discusses how with the current dental handpieces it is pretty inevitable that another patient will be burned, then a dentist will be blamed, and then lawyers will get involved seeking money for the patient who was burned.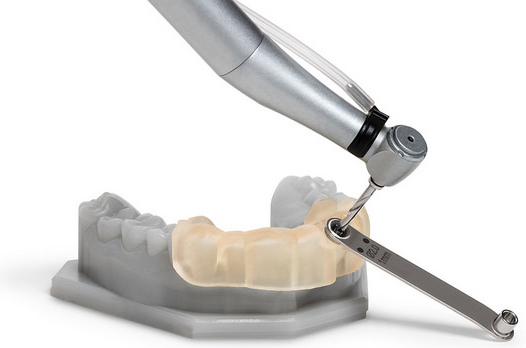 In an article titled "Handpieces and the Risk of Patient Burns" by Neal Patel appearing in Inside Dentistry, vol. 11, no. 10, October 2015, a discussion is made of such technology that has been made to prevent such thermal burns from occuring. Specifically a product from Bien-Air Dental USA, Inc. called the EVO.15 is discussed. The technology uses a heat-arresting technology, which does not exceed human body temperature and prevents burning patients with the head of the handpiece. A tungsten carbide ball is placed between the top of the housing of the tool's bur locking mechanism and the push-button in order to absorb heat in the event of contact when rotating. It certainly seems that if other manufacturers also develop dental handpieces that can prevent burns from ever occurring, thermal burns from wisdom teeth removal may be a complication of the past.