If a patient is in need of dental treatment there are different specialists to consider. Depending on the type of dental treatment being received a patient may be better off seeing a dentist or may be better off seeing an oral surgeon. Thus it is important to better understand the types of treatments a dentist and oral surgeon performs to be able to determine who to seek out.
Treatments Performed by Dentists
General dentists provide preventative care and maintenance. Preventive care includes performing dental cleanings, taking and interpreting x-rays, performing oral examinations, and monitoring the growth and development of teeth and jaws. Maintenance includes performing fillings of cavities, root canals for teeth that can not be restored, placing crowns, and other surgical procedures of the teeth, bone and soft tissues of the oral cavity. By seeing a dentist patients are able to maintain a healthy mouth and smile. Dentists are capable in some cases to perform extraction or removal of teeth but typically only do so for easier cases and leave the more complex surgical extractions to oral surgeons. Extraction can become necessary when the tooth can no longer be restored. If extraction occurs dental implants or dentures can be made to fill in the lost tooth. While some general dentists can perform dental implants most dental implants in the U.S. are performed by specialists including oral surgeons. Dentists are also capable of treating infections that occur but many of these such infections can progress rapidly and are best managed with the skills and experience of oral surgeons. Therefore, while dentists can provide preventative care and maintenance for many more complex problems of the mouth they often refer to other specialists including oral surgeons.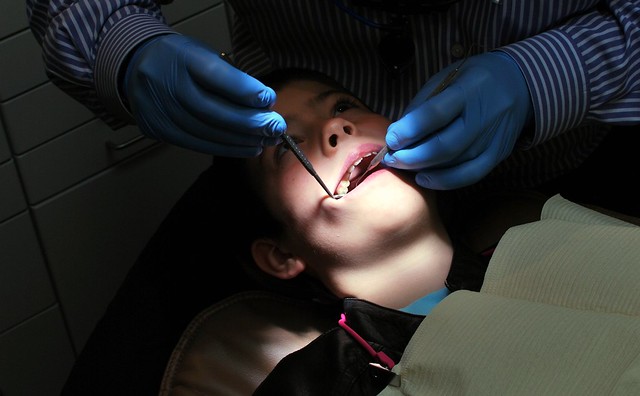 Treatments Performed by Oral Surgeons
Oral surgeons are known as experts in face, mouth, and jaw surgery. In the U.S. there are roughly 9,000 oral surgeons that belong to the professional association known as AAOMS (American Association of Oral and Maxillofacial Surgeons). Around 27% of these oral surgeons also have completed a medical degree in addition to the dental degree. AAOMS has a consumer website which describes what is an oral surgeon and also features an infographic on this topic which has been shared on their Twitter account as shown below. Oral surgeons completes a minimum of four years of surgical training in a hospital-based residency program after the completion of dental school. Oral surgeons train with anesthesiologists and are able to provide local anesthesia, sedation, and general anesthesia. Being able to provide sedation and anesthesia can allow for patients to have more comfortable dental procedures.
There are many procedures of the face, mouth, and jaw that oral surgeons regularly perform. Oral surgeons are the experts of wisdom teeth management and surgery. They are capable of extracting infected, impacted, or diseased teeth. If infections spread into the spaces of the face and neck oral surgeons are able to step in and treat the infection. Oral surgeons are skilled in placing dental implants and performing corrective jaw surgery. Cancer of the head, neck and mouth can be diagnosed and treated by oral surgeons. Further, oral surgeons are able to treat facial trauma, perform cleft lift/palate surgery, and treat temporomandibular joint (TMJ) disorders. Management of sleep disorders including obstructive sleep apnea and performing cosmetic procedures of the facial regions are additional areas where oral surgeons practice.
Find a Dentist or Oral Surgeon
To provide optimal treatment for patients dentists and oral surgeons regularly work together. Dentists can be located using a feature the Find a Dentist feature from the ADA (American Dental Association) where a patient can insert their zip code to find a dentist near them. If a patient has more complex dental issues that require the skills and expertise of oral surgeon for optimal care, a helpful tool is provided by AAOMS called Find a Surgeon where a patient can insert their zip code to locate an oral surgeon near them such as Thomas Ocheltree who is an oral surgeon in Bloomington, Illinois. By better understanding the differences between oral surgeons and dentists, a topic Thomas Ocheltree has also written about, one can become more familiar with why oral surgeons may better suited for the care of dental issues in some areas than a general dentist. By working with both general dentists and oral surgeons patients can ensure optimal dental health related outcomes.