An interesting article titled "Study on post-operative complications after outpatient treatments" written by van der Sleen et al. appears in the 2013 edition of Oral Surgery. The authors were interested in evaluating the post-operative problems or complaints after surgery by oral and maxillofacial surgeons and the frequency of follow up phone calls or visits after the surgery.
The authors devised a study to look at all patients who visited Isala Clinics located in the Netherlands in April 2009. All surgeries were performed by six oral and maxillofacial surgeons and two senior residents and done under local anesthesia. All patients received an antiseptic, chlorhexidine 0.12%, to rinse their mouth with 3 times a day for 7 days after surgery. All patients were also given prescriptions for ibuprofen 600 mg to control pain as needed. The surgeries were grouped into four separate groups: 1) wisdom teeth extractions, 2) apicectomies, 3) dental implant placement, and 4) extraction of teeth other than wisdom teeth. Patient characteristics were also recorded including age, gender, smoking habit, medical status, duration of the surgery, if the surgery was of the upper or lower jaw, surgical difficulty, and in cases of teeth removal, the number of teeth. All follow-up telephone calls were recorded into the last patient entered into the study had the surgery 2 months prior to the time they stopped recording. During any postoperative visits patients indicated their level of pain of a scale from 0 to 10 with increasing pain.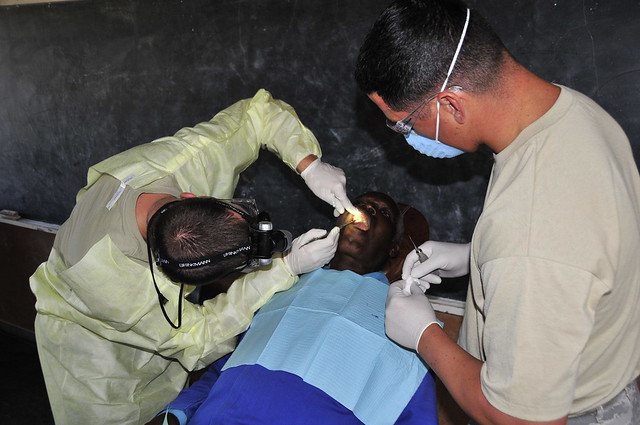 A total of 1080 patients had oral surgery performed during the study which included 526 wisdom teeth extractions. A total of 29 of the patients (5.5%) who had a wisdom tooth extracted made a phone call after treatment and 2.5% of the patients who had a wisdom tooth extracted returned for an in person follow-up visit. The authors found a significant correlation between the duration of the surgery and post-operative complaints in all four groups. It was found that an increase in operating time correlated with more telephone calls and more complications, with both values being statistically significant. The authors also classified the surgical difficulty of wisdom teeth into three classes, and found a significant correlation between the surgical difficulty and post-operative complaints. Those wisdom teeth classified in the two more difficult classes when extracted had patients that statistically significantly experienced more post-operative telephone calls and post-operative complaints than those in the least difficult class. The authors also found that in all four groups there were significantly more telephone calls and post-operative complaints when operating in the lower jaw as opposed to the upper jaw. Furthermore, the authors found that gender, increasing age, smoking habit, and medical status were not risk factors to experience more post operative complaints. Complications experienced included dry socket, inferior alveolar nerve damage, trismus (reduced mouth opening), and infection. The authors state
"This study demonstrated that there were significantly more telephone calls and postoperative complications related to longer operation times, the complex nature of the extraction regarding third molars [wisdom teeth] in the mandible [lower jaw] in comparison to maxillary [upper jaw] extractions…In the present study, there was no significant associations between age and post-operative complications…no association was found between a positive medical history and complaints or complications after treatment"
The fact that age did not associate with post operative complications differs than results that some prior studies have shown. The authors state that a problem with some of these prior studies that showed increasing age was associated with more post operative complications was the authors not correcting for confounders such as a chronic medical condition in an elderly patient. The fact that a positive medical history did not associate with post operative complications also differs from results that some prior studies have shown. Again the authors say that there was no correction for confounders in those studies. The authors do point out one problem with their study in that the patients reported the complications and thus under reporting or even over reporting could have occurred.