According to the July/August 2019 edition of AAOMS today (vol. 17, no 4) the American Association of Oral and Maxillofacial Surgeons (AAOMS) has launched a new National Simulation Program allowing for members and staff to practice techniques on manikins. This can allow for better preparedness by receiving feedback on areas that may require additional training. The same simulated events are given to all participants which allows for objective assessments. The courses can offer instant feedback and point out any deficiencies by the surgeon. The goal of such simulation is to improve patient outcomes. AAOMS currently offers simulation programs in Minnesota and South Carolina.
A particular focus on the simulation is on training oral surgeons for preventing events that can be devastating such as a death or brain injury. Thus one focus of the simulation is on Basic Emergency Airway Management (BEAM) which allows for one to gain competency in dealing with an emergency of the airway. It has been identified that adverse events occur when there is inadequate airway management of an over-sedated patient. During the BEAM module, concepts and skills are developed for sedation monitoring and techniques for supplemental oxygen, opening an airway, laryngeal mask airway (LMA) insertion, bag-valve-mask (BVM) ventilation using one and two handed techniques, and use of the Airtraq laryngoscope for endotracheal intubation. A difficult BVM and laryngospasm, potential complications that might arise during airway emergencies, are simulated to test how the oral surgeon responds.
An Office-Based Crisis Management (OBCM) module is expected to be offered in 2020. There is also a planned sedation online module in the works. The program will expand in 2020 to include the new simulation center being built at AAOMS headquarters in Rosemont, Illinois. The new simulation center is expected to cost $2.5 million and have four simulation labs and two control rooms. Having such a simulation center is expected to provide a cost savings versus having such training at various hotels around the U.S.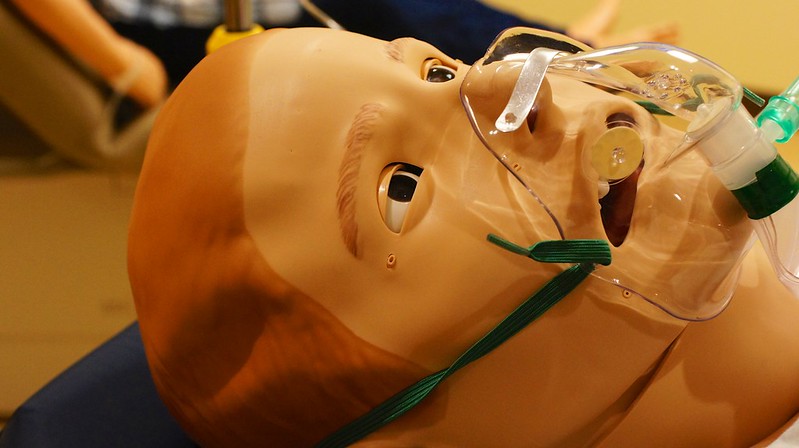 Those who have completed the simulation have so far experienced increased confidence and in particular report being able to better manage an airway. It is nice to see AAOMS leading efforts to improve patient safety. However, the way AAOMS members practice anesthesia using a single provider model continues to be problematic. Even if such simulation training improves the abilities of oral surgeons to manage emergencies that arise during surgery they will continue to do so in an office setting and in many cases without anyone else with training and up-to-date certification in patient rescue. As has been pointed out in other posts on this site, see for example The Single Operator Model of Sedation Leads to Caleb's Law, Profit Motives in Oral and Maxillofacial Surgery Utilizing Sedation, and Updated Sedation Guidelines in Dentistry for Children, it would appear to be far safer for children to have any oral and maxillofacial surgery performed like it is done in a medical setting: with two trained personnel present when deep sedation or general anesthesia is given and at a hospital. While the efforts are applauded, the oral surgeons will not always be able to use their improved skills as they will be focused on the dental surgery and may miss a problem with the airway after it is too late due to the single provider model in place.