Recently on this site, an article discussed a teenage woman who won $10,000 for a hilarious video of her still under the effects of anesthesia after wisdom teeth surgery. She won the money from Americas Funniest Home Videos and also was in the running for a $100,000 prize. However, she is not the only teenage woman who has won $10,000 so far this year from a video of her still under the effects of anesthesia after wisdom teeth surgery. Another woman from the Chicago suburbs in Illinois won $10,000 from Starbucks along with 10,000 Starbucks Rewards for a video of her paying it backward while at a drive through at Starbucks while still under the effects of anesthesia from wisdom teeth sugery.
The woman was inspired to make the video from Ellen DeGeneres as part of her Ellen Presents: The Starbucks Ellen's Starbucks Rewards Surprise Contest which ended on January 24, 2020. She entered by using the Starbucks app on her phone, adding money to her Starbucks Rewards account, then having a video taken of her paying for the person's drink behind her in a drive-thru lane at her local Starbucks. She saw a clip from Ellen earlier in the month in January. While being driven home by her mother after wisdom teeth surgery the woman paid for someone else's drink behind their vehicle while they were in the drive-thru at Starbucks. The woman's older sister recorded this footage along with hours of additional video of the woman after wisdom teeth removal.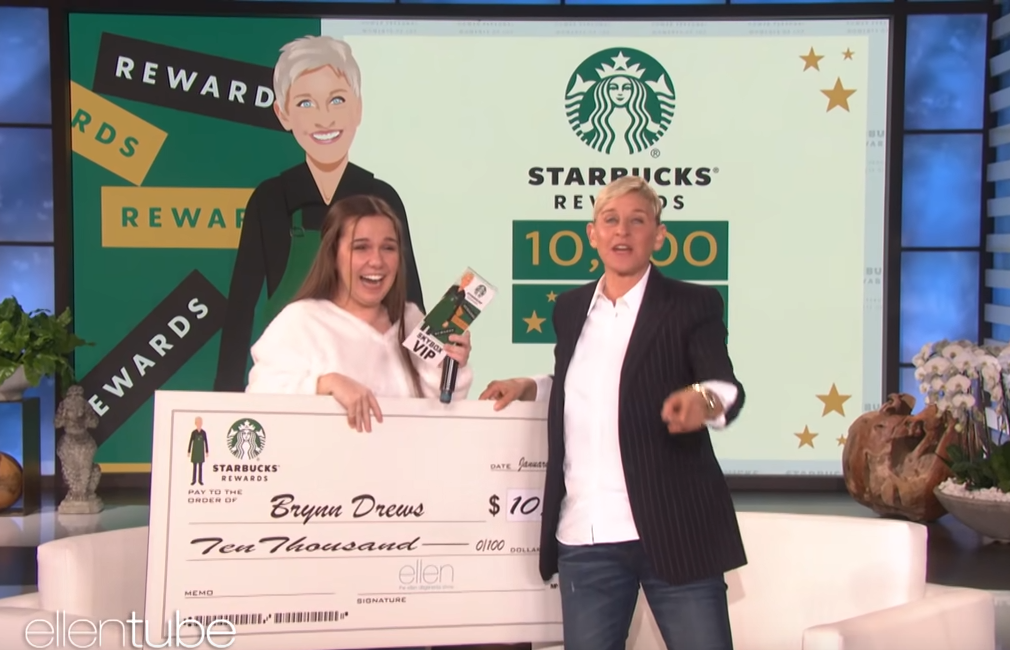 The woman and her mother flew out to Los Angeles for the the Ellen show. You can see the interview the woman had while on the Ellen show on NBC along with the video that was submitted to the contest which resulted in her winning the $10,000 prize. Note the video of the woman paying it backward at Starbucks starts at the 0:15 minute mark.
It seems that if you are planning to have wisdom teeth extracted, you may want to consider having a family member or friend to tape you for several hours after the surgery. If the result is funny or you do something for a contest like the Ellen one above, you may be able to win some money. This could lead you to be somewhat famous and have some extra spending cash. The woman who won the $10,000 from Ellen's Starbucks Surprise Contest is still figuring out what she will spend the money on. However, for sure she will be treating her family to lots of Starbucks. The current Starbucks Rewards programs includes that 50 stars results in one cup of coffee, 150 stars results in one handcrafted drink, and 200 stars results in one lunch sandwich, so the 10,000 points the woman won is good for 200 cups of coffee, about 66 handcrafted drinks, or 50 sandwiches or some other combination.
Source: Suzanne Baker, "Waubonsie Valley student wins big in Ellen's Starbucks pay-it-forward challenge," Chicago Tribune, Jan. 16, 2020, https://www.chicagotribune.com/suburbs/naperville-sun/ct-nvs-waubonsie-teen-ellen-show-starbucks-challenge-st-0117-20200116-v6cixvtebfajxoae2fgri7zusq-story.html