Recently, both insurance companies and politicians in the U.S. have intensified their efforts to limit patients undergoing wisdom teeth surgery to have access to opioids to manage their pain. See the posts on this site: 1) Insurance Companies Limiting Access to Opioids After Wisdom Teeth Surgery and 2) The Effect of Opioid Prescription Limits For Wisdom Teeth Removal. Such efforts have intensified due to recent research showing that opioid prescriptions taken by young adults following wisdom teeth removal has contributed to the opioid addiction and abuse epidemic in the U.S. However, lost in these conversations is the perspectives from oral and maxillofacial surgeons.
According to the 2017 white paper by the American Association of Oral and Maxillofacial Surgeons (AAOMS) titled "Opioid Prescribing: Acute and Postoperative Pain Management," these surgeons feel:
"… the practitioner-patient relationship must be upheld, allowing for practitioner judgment in the management of a patient's pain – including drug types, dosages and treatment durations."
Such a position is re-iterated by Dr. James Hupp in the 2019 editorial titled "Opioids: Combating Misuse While Properly Caring for Our Patients" appearing in the Journal of Oral and Maxilofacial Surgery (vol. 77, pp. 669-670). Dr. Hupp wrote about the surgeon's role in helping prevent the opioid epidemic in 2016, see What Can a Surgeon Do to Prevent Opioid Abuse. In the 2019 editorial refered to above Dr. Hupp argues that surgeons in the U.S. have taken steps to decrease the availability of prescription opioids.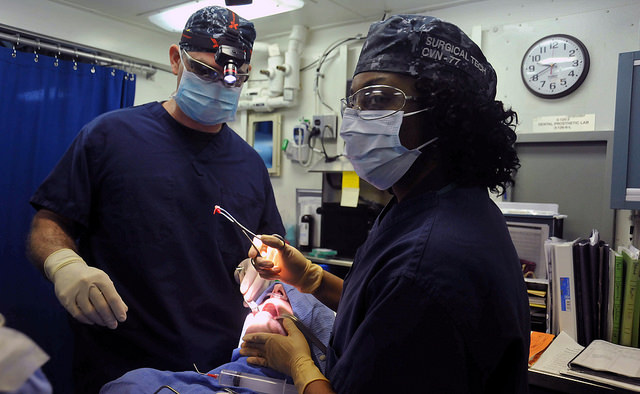 Although not specifically mentioned by Dr. Hupp, evidence of such decrease in the availability of opioids after wisdom teeth removal is shown in a recent paper titled "Investigation of an Opioid Prescribing Protocol After Third Molar Extraction Procedures," written by Tompach et al. appearing in the Journal of Oral and Maxilofacial Surgery (vol. 77, pp. 705-714) where the authors explored if a opioid prescribing protocol was sufficient to decrease opioid prescribing after wisdom teeth extraction. In the article the authors looked at patients who had wisdom teeth removed at the University of Minnesota School of Denistry in the fourth quarter of 2015, consisting of 173 patients, and also in the fourth quarter of 2017 after a opioid prescribing protocol was implemented, consisting of 171 patients. A total of 201 postoperative opioid prescriptions were written during the study period with 164 (82%) prescriptions written before implementing the protocol and 37 (18%) prescriptions written after implementing the protocol. A total of 3,195 opioid tablets were prescribed during the study period with 2,776 (87%) opioid tablets prescribed and 419 (13%) opioid tablets prescribed before and after implementing the protocol respectively. A total of 143 postoperative nonopioid prescriptions were written during the study period with 9 (6%) patients receiveing nonopioid prescriptions before implementing the protocol and 134 (94%) patients receiving nonopioid prescriptions after implementing the protocol. Clearly this study showed that when the opioid prescribing protocol was in place, fewer postoperative opioid prescriptions were written after wisdom teeth surgery and more nonopioid prescriptions were written. Further the study found that before implementing the protocol, the mean morphine milligram equivalent (MME) prescribed after all wisdom teeth removals was 101.3 and after implementing the protocol, the mean MME was 49.3. In this study the post operative opioid prescribing protocol called for using ibuprofen and acetaminophen as a first-line therapy for acute postoperative pain when it's use was not contraindicated.
The authors of the study note:
"Interestingly, preliminary investigations showed no marked increase in after-hours calls, patient return visits, opioid prescription refills, or secondary prescriptions after implementation of the postoperative opioid prescribing protocol. In addition, patient acceptance has been favorable, and patients are increasingly requesting nonopioid analgesics after third molar [wisdom teeth] extraction."
In an article titled "Third Molar Extraction and Persistent Use of Opioids" by Ferguson et al. appearing in the Journal of of the American Medical Association (vol. 320, no. 22, Dec. 11, 2018) the oral surgeon authors point out that alveolar osteitis (dry socket) occurs 3 to 7 days after wisdom teeth extraction and can occur in up to 5% of patients which is painful. Thus inconvenience and lack of pain control could potentially result with a 3 day opioid prescription and then required prescription renewal.
In the 2019 editorial first mentioned above Dr. Hupp says he feels opioid provide pain relief to patients that is not always well controlled by other medications. He therefore feels it is important that doctors remain able to prescribe opioids to patients when it is beneficial to do so.
Dr. Hupp goes on to say:
" Well-meaning regulators and others must avoid over-focusing on those who misuse opioids and keep the interests of those who have legitimate needs for opioid use in mind. This includes showing trust in professionals with the training and experience in the proper clinical use of narcotic analgesics …Pressures on clinicians to have patients in pain just tough it out without the use of available therapeutics is unprofessional and an abrogation of our responsibility to properly care for those who have put their trust in us."
The AAOMS white paper says that non-steroidal anti-inflammatory drugs and acetaminophen when taken together work synergistically to rival opioids in their analgesic effect, but the dosage level and time given needs to be carefully documented to prevent any overdosage. The white paper says the maximum daily dose of acetaminophen and ibuprofen should not exceed 3,000 mg and 3,200 mg respectively. When opioids are indicated, a low-dose short-acting opioid for the shortest duration possible should be given.
Thus it appear that oral and maxillofacial surgeons have been making efforts to reduce opioids given to young adults after wisdom teeth removal without insurance companies and politicians imposing their own restrictions. However, it appears, as Dr. Hupp points out, that there is a lack of trust by other parties that doctors will do right by their patients when it comes to prescribing opioids.