Meghan Trainor, is yet another recent celebrity to share that she has had her wisdom teeth removed. Other celebrities that have had wisdom teeth surgery have been discussed on this site before in the posts Celebrities who have had Wisdom Teeth Extracted and Recent Celebrities to have Wisdom Teeth Removal. Meghan is a 25 year old female, who is a famous musician. She shared on her Instagram on November 19, 2019, that she was planning to just have one wisdom tooth extracted, but that she was told all four wisdom teeth should be extracted, and thus had all four removed.
Meghan posted four videos on her Instagram after her wisdom teeth surgery of her with an ice pack around her mouth with gauze in her mouth shortly after the surgery. In the first video she mentions how she loves her manager Tommy while appearing to be in a recovery room. In two of the videos she is seen riding as a passenger in a car singing along to her new song "Working on It" that features Lennon Stella and Sasha Sloan. She appears to have gauze in her mouth and certainly does not sing along as well as the version she has released, sounding a bit muffled.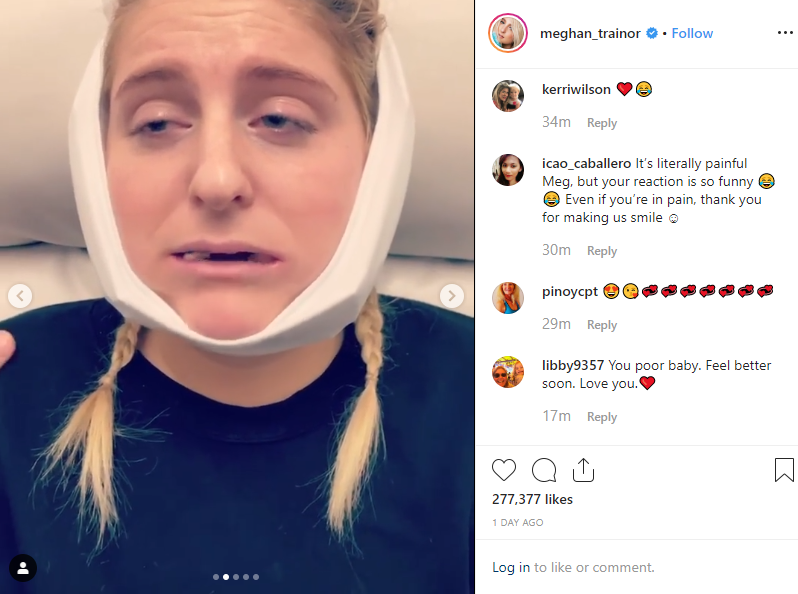 In the final video Meghan posted on her Instagram about her wisdom teeth surgery she appears to be listening to the song "Sitting In The Park" and then seemingly says "I regret it." Presumably she is uncomfortable after having the wisdom teeth surgery and is second guessing her decision to have done the surgery. In her post she also gives a shout out to the dentist who cared for her and also her family for taking care of her. Meghan, like many other celebrities before her, had to make a decision about extracting wisdom teeth. Hopefully, she heals up quickly and recovers without any complications.